Kachina Valeska Shalako Dancer, SC, GRC, CM (Indy)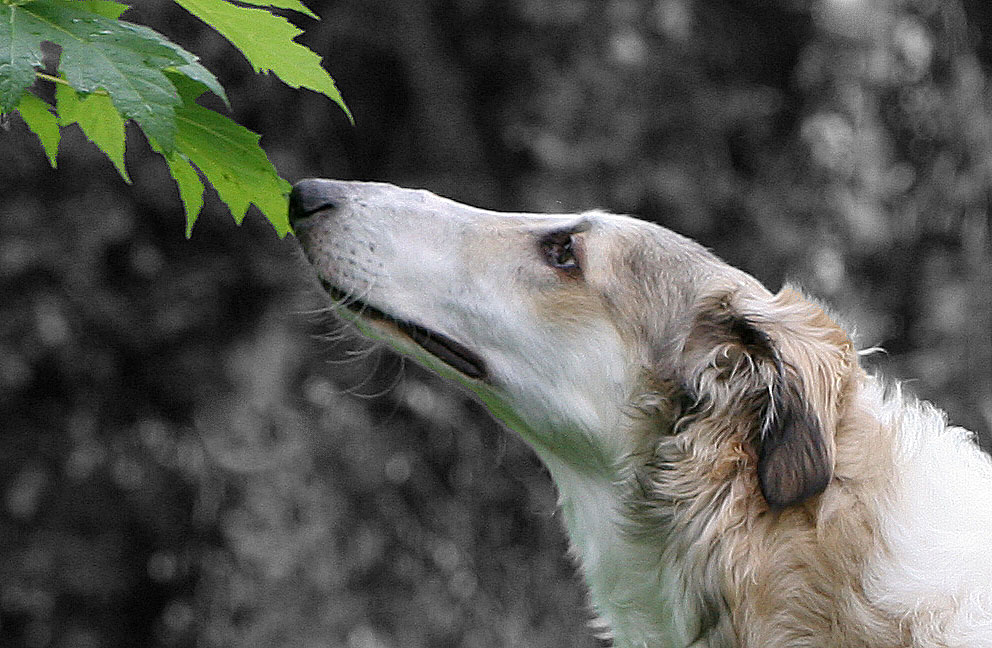 Born October 8, 2004
Sire: CH Valeska Wilder Shores of Love (Falco)
Dam: CH Valeska Afterglow (Sorcha)
Owners: Dave & Gwen Mills
Breeder: Carol Enz, Kachina
---
A few months after we lost Nike, we were up for another Borzoi. We wanted of course to find a healthy dog, and we started looking around the area, meeting the "Borzoi folks" and generally engaging with the dog community. We were lucky enough to run into Sally Barron, who runs the LGRA meets at her ranch in Sloughhouse. This was just what we needed, to see these beautiful dogs running at full clip, and especially to get to meet them (and their owners, of course :). After a final "go" decision, we contacted Sally and a few other folks, letting them know we were in the market for a Borzoi pup, and it was not too long before we were in touch with Carol Enz, who had a litter in New Mexico on October 8, 2004.
This was not just any old litter, this was a litter from Falco and Sorcha - both champions with significant running records as well. Something we'd been looking for, or at least hoping for! We had some discussions with Carol, and tried hard to hold back our excitement while she was working the logistics on her end (was she going to give us a pup? was she going to keep them all?). Finally the answer came - YES, we could have little Shalako! We met Carol in Arizona for a teary hand-off, and he's been home with us since January 2005. We thank Carol so much for entrusting him with us.
We're using the call name "Indy", given our racing and coursing plans with him.
February 2008: Indy received the "Brighty Trophy", as the #1 points-scoring NOFCA Borzoi for the 2007-08 season. This is a wonderful honor, and we're thrilled that Indy was able to do so well in the field this year. Linda Turner's Brighty (Valeska Unbridled Sea) is Indy's aunt (Sorcha's sister) and was the #1 NOFCA Borzoi for three years running, several years back.
April 2008: Indy was honored with the cover photo for FOREVER BORZOI, a book of stories and photos of this wonderful breed. The book was released at the 2008 Borzoi National Specialty in Sacramento. It can be ordered from www.BeingBorzoi.com.
April 2008: Indy took third place at the Brozoi Nationals in the American Bred Class - he's a show dog!
January 2009: Indy got his AKC Senior Courser title
January 2012: Indy got his NOFCA Courser of Merit title.